Family Talking Clock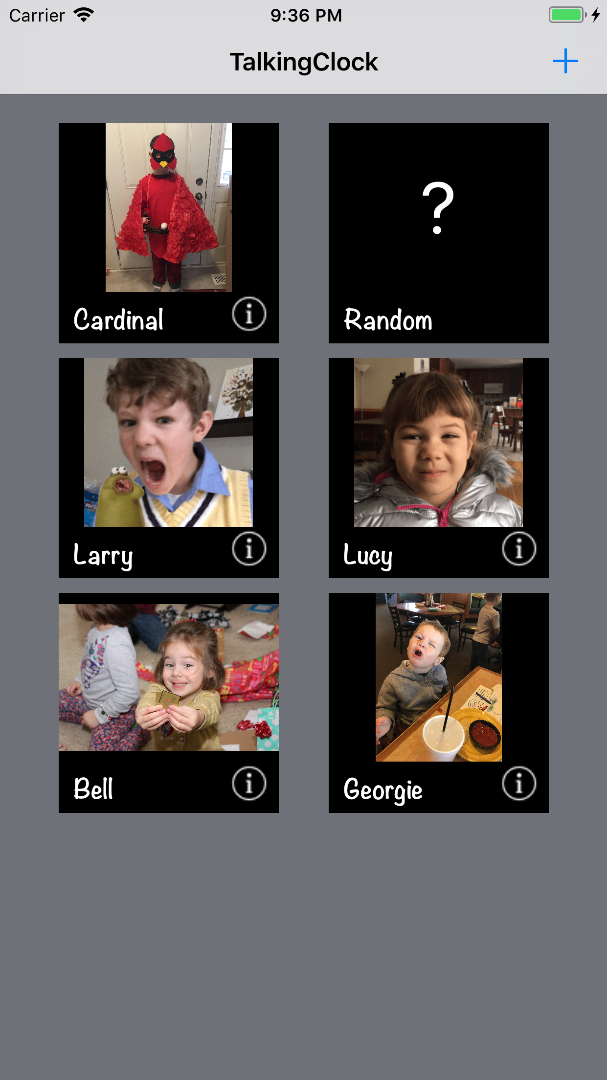 Hearing the time has never been more fun! With just a click, hear your children, grandchildren, nieces, nephews, friends, or others tell you the time in their own voice!
With just a click, the Family Talking Clock tells you the time in the serious or silly voice of your choice or a random selection of your favorite voices!
Add limitless voices by clicking the plus (+) button in the upper right corner of the app. Add a voice name and select a fun image or take a picture with your camera. Then simply record each number in the app by clicking the record button to create the next best voice! Want to make a change, simply click the "i" in the lower right-hand corner of the voice. Sharing your created voices is as easy as clicking the share button after clicking the "i" in the lower right-hand corner of the voice. The voices can even be dragged and dropped with a simple long-press! Are ready to be a part of the timeless fun?
Privacy Policy
The Family Talking Clock is provided as is and is not intended for any purpose.  No information is shared by the applicaiton.  The app does use third party services that may collect information used to identify you.
Log Data
In a case of an error in the application certain data and information (e.g. logs) may be collected to devug the error including, but not liminted to device Internet Protocol ("IP") address, device name, operating system version, the configuration of the app, the time and date of your use of the Service, and other statistics.
Links to Other Sites
This Service may contain links to other sites. If you click on a third-party link, you will be directed to that site. Please consult the Privacy Policy of the third party website. We assume no responsibility for the content, privacy policies, or practices of any third-party sites or services.
Changes to This Privacy Policy
This Privacy Policy may be updated from time to time. Thus, you are advised to review this page periodically for any changes. Any changes are effective immediately after they are posted on this page.
Contact Us
If you have any questions or suggestions about my Privacy Policy, do not hesitate to contact me at Mike.
Need help?  Contact us at support@dobblet.com